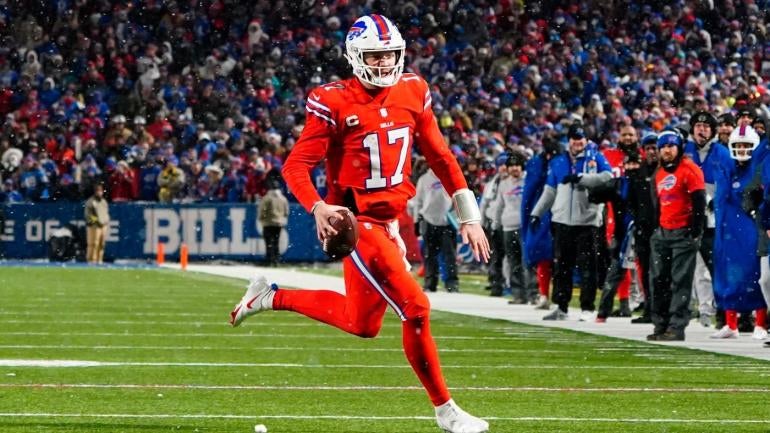 Satisfy
The Monday Night Football kickoff time is usually 8:15 p.m. ET, but that will change for the Week 17 matchup between the Bills and the Bengals.
This week's game start time will be pushed back 15 minutes, with a new kick-off time of 8:30 p.m. ET. The delay happened to allow ESPN to accommodate the Rose Bowl, which kicks off Monday at 5 p.m. ET with Penn State taking on Utah.
All sports networks will show the Rose Bowl in full before switching to Monday night's game. Since the Rose Bowl is still likely to go ahead when the Bills-Bengals kick off, ESPN will also be airing the NFL game on ABC so no one misses a game.
The Cincinnati game will be the final Monday night of the regular season, and it should be a wild one. For one, it's an unprecedented showdown for a Monday game late in the season. The teams' 23 win totals are tied for the most in Monday's games. Another game that met that standard was in 1997, when the 12-2 49ers played against the 11-3 Broncos (Denver lost that game, but won the Super Bowl that year).
The Bengals (11-4) will enter the game knowing a win will earn the AFC North, while the Bills (12-3) will enter the game knowing a win will give them the No. 1 AFC playoff spot Race seeds.
If the Tigers win, it would at least guarantee their No. 3 seed in the AFC and open the door for them to win a possible No. 1 seed. However, for the Bengals to get the top seed, they not only need to beat the Bills on Monday and the Ravens the next week, but they also need the Chiefs to lose to the Raiders in Week 17.
If the Bills win, they will overtake Kansas City as the No. 1 seed in the AFC, and then they can beat the Patriots in Week 18 to officially claim the top spot.
The game will mark the first time the Bills and Bengals have met in January since January 1989, when Cincinnati beat Buffalo in the AFC Championship Game.