Energy software platform Kaluza has announced Inflexion, a vehicle-to-everything (V2X) two-way charging program that it hopes will bring connected vehicles to all electric vehicles.
Kaluza also announced a "world-first" trial in the UK with Volkswagen Group, energy retailer Ovo Energy and information technology company Indra, which will mark the first practical use of bi-directional charging with the Combined Charging System (CCS), which most electric vehicles now The charging standard used.
The program aims to use Volkswagen's CCS vehicles and Ovo Energy customers to demonstrate the technology with the Kaluza platform to coordinate the system between EV owners and energy retailers.
V2X technology enables EV owners to use their EVs to power their homes, use their EVs as backup power during outages, and sell excess energy back to the grid. The platform also allows energy providers to engage EV owners in energy transactions.
Charging with CCS means the Inflexion trial could be a game-changer for V2X technology, as CCS is already used in millions of electric vehicles. If successful, it could significantly accelerate the rollout of V2X.
While Inflexion will be the first trial of its kind using CCS technology, Kaluza recently completed another trial with Ovo Energy customers, which it claims is the world's largest domestic V2G trial. The 36-month program involved more than 330 V2G chargers.
A report by Kaluza on the scheme shows that customers save an average of £420 a year and drive 3 million miles "for free", or nearly 15,000km per car.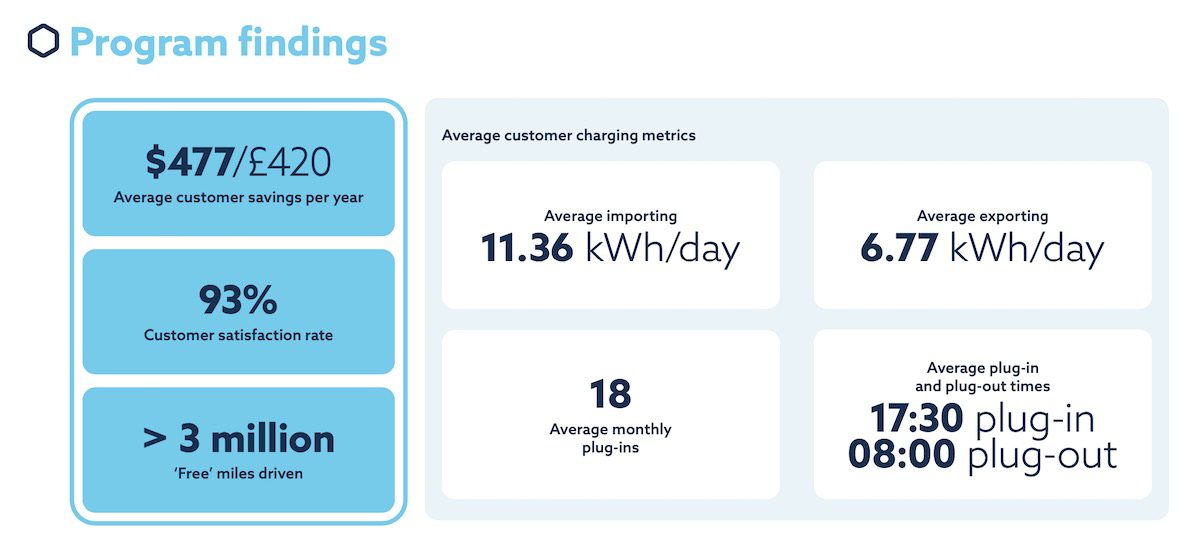 Kaluza has a wealth of data and key takeaways from the 3-year trial, such as the importance of engaging with automotive OEMs early, working closely with policy makers and regulators, and building customer confidence from the start. It will bring valuable experience from the Inflexion CCS program.
Alex Thwaites, Head of Zero Carbon Living at Ovo Energy, said: "This is not just about driving renewable energy solutions forward, but about showing how customers can actually reduce their energy bills by switching to electric vehicles."
"Through Ovo's V2G tariff trial, we've seen some EV drivers save up to £800 a year on their bills."

In December 2022, pure electric car sales soar to 33% of all new car sales in the UK. As one of the fastest growing EV markets in the world, the UK is the perfect test bed for V2X, Kaluza said.
According to Kaluza, if all vehicles in the UK today were electric and V2X enabled, they could replace 60% of all gas back-up generation currently active in the UK.
Inflexion is part of the UK's V2X (Vehicle Connected) innovation initiative, which aims to address barriers to energy flexibility through bi-directional electric vehicle charging.
"V2X will have a transformative impact on decarbonizing our energy system, but only if we make it accessible and affordable for all," Kaluza CEO Scott Neuman said in a statement.
"Inflexion is an exciting step forward for the industry to engage and learn from real EV drivers and bring this game-changing technology closer to real commercial scale. Kaluza is ideally positioned through our advanced software and broad range of partners ecosystem to lead the effort."

Daniel Bleakley is a cleantech researcher and advocate with a background in engineering and business. He has strong interests in electric vehicles, renewable energy, manufacturing, and public policy.