Mayor Michelle Wu has appointed John Borders IV, a Dorchester native, as her new Director of Tourism, Sports and Recreation Worked for the Boston Celtics. He starts work on Monday.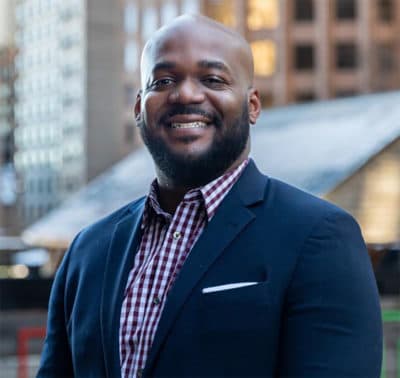 As head of the Office of Tourism, Sports and Recreation, Borders IV is tasked with bringing events, conventions, festivals and conventions to the city. His office will work with two private sector entities, Meet Boston (formerly the Greater Boston Convention and Visitors Bureau), and the Greater Boston Chamber of Commerce.
The office also oversees film and television production in the city.
Borders IV grew up near Blue Hill Avenue and now lives in Roslindale, a job he sees as combining his areas of expertise, from relationship management and community engagement to sports and entertainment. "Being able to change the story around Boston and what it means to be a city, I'd love to be a part of that," he told reporters.
"Boston isn't always the favorite for some people, and I hope my time in this seat will not only change the narrative, but really change the opportunities we have," Borders IV said.
According to Meet Boston, which welcomes more than 19 million visitors a year, the company recently launched a new marketing and advertising campaign targeting not just the city's five-star hotels and professional sports teams but 23 neighborhoods, residents say76 language.
"Boston is a city for everyone, and every resident and every visitor has something special to experience in our community," Wu said in a statement. "As Boston continues to grow and welcome people from around the world people, we want to bring greater focus and focus to the vitality of our community. I thank John for his dedication to serving our city and look forward to his leadership in ensuring Boston is a welcoming place for all."
Borders IV previously served as a principal at VTH & Madison, a consulting firm focused on scaling and growing businesses, including startups and boutique brands owned by people of color. He also spent four years as a senior manager of community engagement with the Celtics and as an account executive at Everfi, a company focused on addressing educational inequities through software.
Borders IV also works on Governor Deval Patrick's Education Secretariat. He is a graduate of St. Sebastian's School in Needham and Morehouse College in Atlanta, where he first met and befriended Janelle Monae, now a singer and film star. Borders IV recalls that she was going from dorm to dorm selling CDs from her guitar case when they met.
Borders IV reports to Segun Idowu, the Mayor's Director of Economic Opportunity and Inclusion. "With a vision to revitalize our community and turn our community into a destination, I know that John, Son of Boston, will elevate our stature locally and globally," said Idowu.
Borders IV replaces Kate Davis, who was hired in 2020 and left last year as executive director of the Meet Boston Foundation and director of special projects at Meet Boston, according to her LinkedIn profile. City hall veteran Amy Yandle served as interim director during Davis and Borders IV's tenure.
This story was originally published by the Dorchester Reporter.