"Try jackfruit," laughs Yao Richard when we first meet at Live Oak Gardens Wholesale Nursery in New Iberia.
She handed me a slice and we started talking about the incredible food we could grow in subtropical South Louisiana. Since then, she's been introducing me to new, locally grown flavors—corn from bamboo shoots, briny from homegrown olives, and most recently, fresh green papaya salad.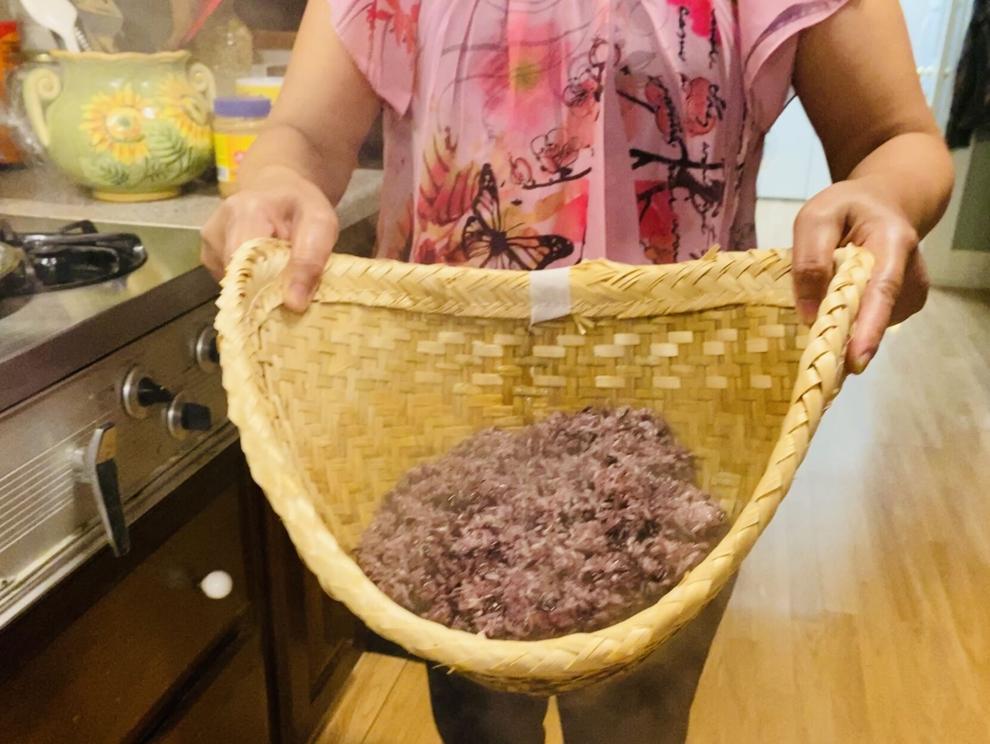 All of this food is grown in her yard on Jefferson Island near New Iberia, just down the road from the wholesale nursery where she and her husband, Mike Richard Jr., manage the day-to-day operations of the family business. Sitting on the edge of Rip Van Winkle's garden, Richards' yard is dotted with papaya trees, which were laden with football-sized green papayas when I visited in early December. Richard has picked out some share-worthy buckets for the salad she taught me to make.
I took off my shoes at the door and stepped into the hustle and bustle of her kitchen. Richard prepares three dishes—purple sticky rice steaming on the stove, marinated pork in the air fryer, and cheesy garlic bread popping up next to the oven.
The way she cooks is sensual. Several times she picked up the woven basket sitting on top of a pot of steaming water. She took what looked like an upside-down hat with a high brim, shook it, threw the whole ball of rice into the air, and hooked it into the basket, where a puff of steam rose from it.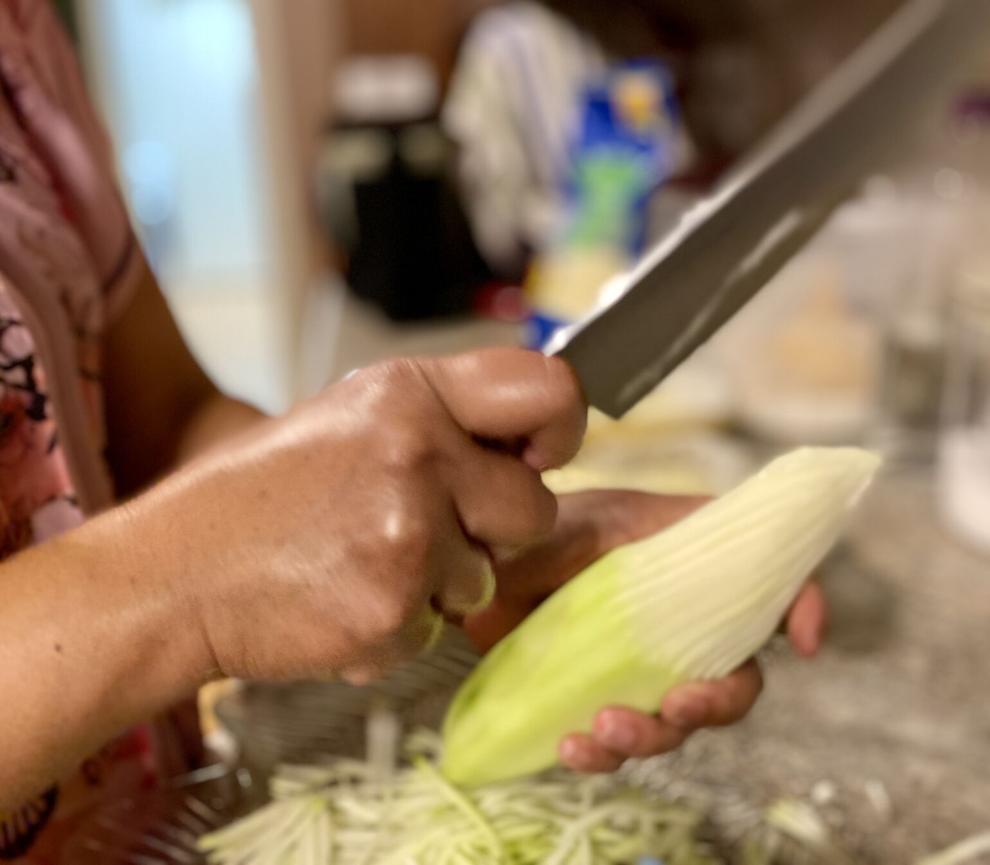 A papaya she chopped in mid-air. Since the recipe calls for it to be shredded or shredded, I imagined a cutting board or grater. Neither. Grabbing the papaya in her fist, Richard hits it with a knife perpendicular to the oblong fruit, making grooves in the flesh, which she then scrapes off—the result is a pile of finely chopped papayas.
"How did you learn that?" I asked, wondering if she hadn't cut her hand.
To my surprise, Richard said that she didn't cook much growing up in Thailand. "My mum cooks three meals a day and it's a lot of work," she explained, "but I just help out with simple things: prep, cooking and washing dishes."
After moving to Australia, she got a job in a Thai restaurant and started learning the complexities of Thai cooking. She worked her way up the ranks from dishwasher to sous chef to server, continuing on to business school as her English skills improved. Meanwhile, her older sister moved to southern Louisiana, where Richard came to visit, met her husband, and started a family.
Richards' school-age son is my ally in spice caution. He loves crunchy crumbles in his salads, but since he doesn't like spicy, Richard plans to add just one of the seven peppers she typically uses. However, I noticed that when she pulled the peppers out of the freezer, she threw four seemingly cold peppers into the mortar – a compromise. They are very small.
Richard uses a mortar and pestle to puree the ingredients into a mesh. This traditional clay mortar and pestle is used to make a variety of tam-style pounded salads (tam means "to pound" in Thai). Tonight we made it mostly local with green papayas, peppers and cherry tomatoes from Richard's garden.
Although they were small, I tasted the peppers. I appreciate the delicious rice, pork, and bread that help temper the spiciness of the salad. I'm also grateful for the sympathetic smiles I got from Richards' son.
Richard let me take home one of her papayas, and I recently made my own salad. I even tried her mid-air chop, but lacking skill, I finished it on a cutting board. In lieu of a good sized mortar and pestle, I pound the salad with my hands, like kneading dough. I served it with salmon marinated in ginger and orange juice (oranges I picked before freezing recently and ginger that Richard let me grow in my yard a few months ago). 2/3 of my kids tried it and loved it, especially with the extra crispy crust!
Green Papaya Salad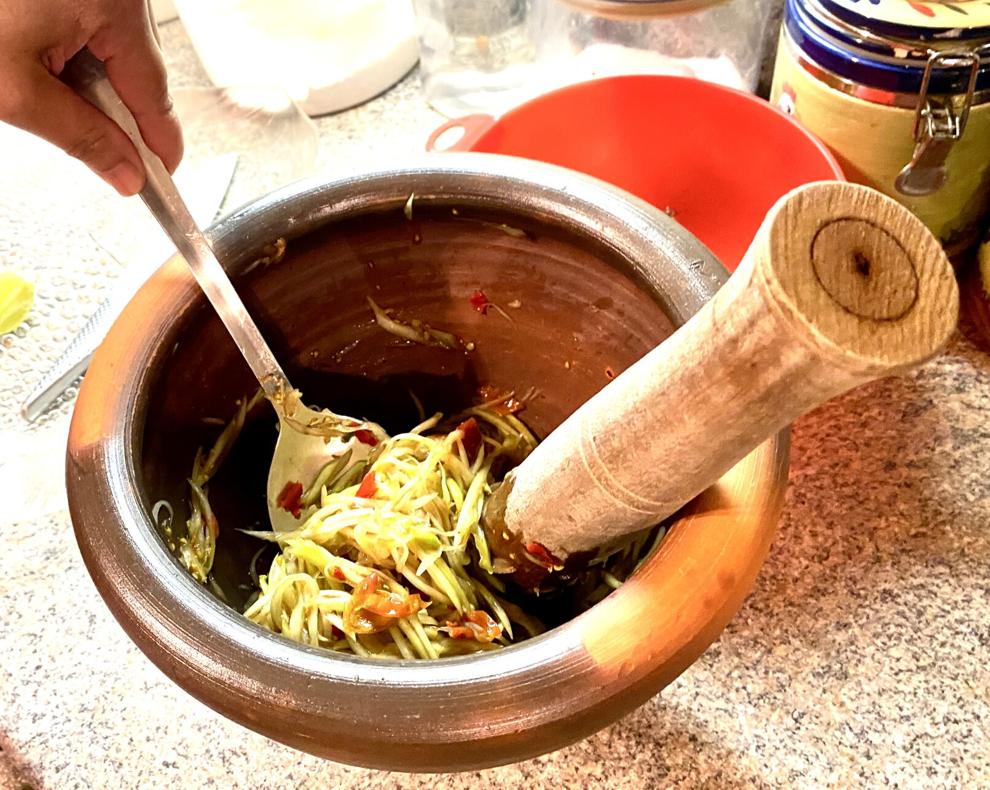 Serving 4-6
Recipe provided by Yao Richard
1 tsp to ½ tbsp sweetener (sweetened palm or coconut sugar is recommended)
1 clove garlic, peeled
1-7 chilies or dried chili flakes to taste
3-6 sliced ​​limes, peeled
2 tbsp fish sauce
½ – ¾ cup small cherry tomatoes
1 medium green papaya, peeled and julienned (seeds discarded)
1. Put the sugar, garlic and chilli in a Thai mud mortar, mix with a wooden pestle, and pound into a paste. In place of a mortar and pestle, mince the garlic and chili together, then add the garlic, chili, and sweetener to a medium bowl.
2. Squeeze the juice of 3-4 lime slices into a mortar or bowl and add the lime zest at the same time. Mash again or use the back of a wooden spoon to break up the mixture.
3. Add fish sauce.
4. Add the cherry tomatoes and break up lightly with a pestle or wooden spoon. Larger cherry tomatoes can be cut to your preferred size before adding to the mix.
5. Add shredded papaya, mash lightly and stir until all ingredients are well combined. If using a bowl, the salad can be mashed with clean hands or the bottom of a measuring cup. Adjust to your taste by adding more sweetener, lime juice, cayenne, and fish sauce, if necessary.
6. Serve with fried pork skin, with khaep mu (also known as cracklins) scattered on top. Goes well with sticky rice and pork.