CNN
—

Over the course of half a century of interviewing U.S. presidents, Barbara Walters interviews the world's most powerful men about their regrets, their mothers, their marriages—even their sleeping arrangements with their wives.
"Double bed," Jimmy Carter told a female news reporter in 1976. "always have."
Perhaps unlike others in the recent history of the American presidency, Walters helped reveal the people of the White House as people, using surprisingly intimate questions during the heyday of appointment television to help Americans understand their leadership from a human perspective. people. The pioneering television journalist died Friday at the age of 93.
Walters made news and held the president accountable, though she was sometimes criticized for being too soft. She moderated the presidential debates between Gerald Ford and Carter and Carter and Ronald Reagan. She raises important questions that illuminate policy and approach in times of national crisis, including during war and recession.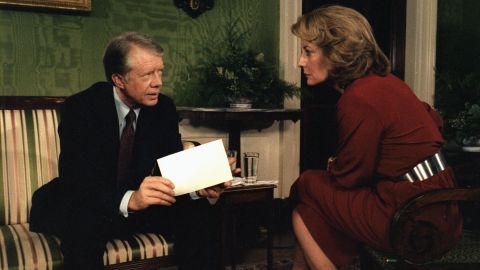 Yet it was her insistence on finding out the president's character and digging into whatever she found there that could help usher in a new era of political personality and unravel the inner lives of those who lead the free world.
"You mean? Do you have a cold, mean, mean personality? Do those blue eyes get cold?" she asked Carter before asking about his bedroom arrangement.
"People say you're more like your mother," she asked during a 1981 visit to Reagan's ranch in Santa Barbara, California. "Do you think so?"
"Did you discuss these things with your father?" she asked George W. Bush in a conversation about global threats in the months after the Sept. 11, 2001, terrorist attacks.
She interviewed every sitting president, from Richard Nixon to Barack Obama, and spoke with Donald Trump and Joe Biden in the years before they entered the Oval Office.
Many of the interviews included the president's wife, an opportunity for her to ask the first couple about their aspirations, tastes and marriage.
"You want him to quit politics. You talk about it openly. It affects your marriage. You want him out," she asked Michelle Obama in 2010. "Is there a moment where you say to yourself, one semester is enough?
Instead of keeping her presidential subjects at arm's length, she visited their ranch, climbed into their jeep, sat next to their Christmas tree, and brought her pages of questions prepared.
She interviewed her first sitting president in 1971, meeting a nervous-looking Nixon in the blue room who asked her if her knee-high boots were comfortable.
After discussing Vietnam, Walters sought something more: "an opportunity to learn more about this mysterious and distant being," she recalls in her memoir.
"There's been a lot of discussion about your image and the fact that the American public sees you as rather sullen and not a human being," she asks. "Mr. President, are you concerned about this image?"
And so began the decades-long process of unearthing the character of successive commander-in-chiefs.
"I'm fascinated by the personalities of our leaders. Who are they? What do they believe in?" she said on a 2014 episode of "Oprah's Masterclass."
In 1972, she joined the corps of reporters accompanying Nixon during his landmark trip to China, one of the few women in a group of men, wearing a long shearling coat and a camera slung from her wrist , stepping off the Pan Am charter plane.
Her most famous interview with Nixon was in a live special years after Nixon resigned over the Watergate scandal, asking him: "Do you regret not burning the tape?"
"I probably should have," he admitted.
Walters seemed fascinated by the president's regrets. She asked George H.W. Bush — who, she wrote, was the president she knew best "on a personal level" — whether he regretted his campaign slogan "Read my lips: no" after he was effectively forced to raise taxes. new tax".
"It caused credibility issues at the time," Bush admitted. "I have to list it as a huge success."
In 2005, she asked his son, George W. Bush, if he regretted the U.S. invasion of Iraq.
"But if there were no weapons of mass destruction, was it worth it? Now we know that was wrong. Was it worth it?" she asked. (Of course, Bush said.)
Walters has his regrets, too. She "couldn't work up the courage" to ask Ford about falling off the steps of Air Force One. She cringes as she sternly asks Carter to "be nice to us" at the end of the interview. She said she was wrong for not airing a walk-and-talk interview with Betty Ford when the first lady was drunk.
"If I were interviewing a first lady today and she was visibly drunk, I would definitely make that public," she wrote.
At times, her questions seemed to foreshadow things to come. In 1996, she asked President Bill Clinton how important it was to "be a role model." In a few years, she would interview Monica Lewinsky — the former White House intern who became a household name in the 1990s for her affair with then-President Bill Clinton — in front of a television audience of 70 million.
"I never felt like I really knew Clinton," Walters writes in her book. "I never experienced his famous sensuality. He never shone with me."
Reagan was a different story. Like many Americans, Walters seemed drawn to his movie star appeal — though in an interview, she expressed doubts about his social skills.
"Do you think these are acting experiences?" she asked him.
In the decades since she began interviewing presidents, personal questions have become the norm for politicians and their spouses. Voters have come to expect to know the personalities of their leaders, or at least the personalities they cultivate for public consumption.
"I used to get criticized for asking questions like: Never mind, what good do we care what he or she thinks? The bottom line is just hard news questions. I don't think so," Walters said after his retirement. "I think it's important to understand what's important to them. You have to find out, if you can, what makes a person tick."