Defender João Cancelo is joining Bayern Munich on loan from Manchester City.
Cancelo flew to Germany on Monday and underwent a medical.
The deal is an initial loan with an option to buy the full-back for more than £61m (€70m).
Cancelo posted a farewell message on his Instagram page, which read: "Once Cityzen, always Cityzen. Thank you."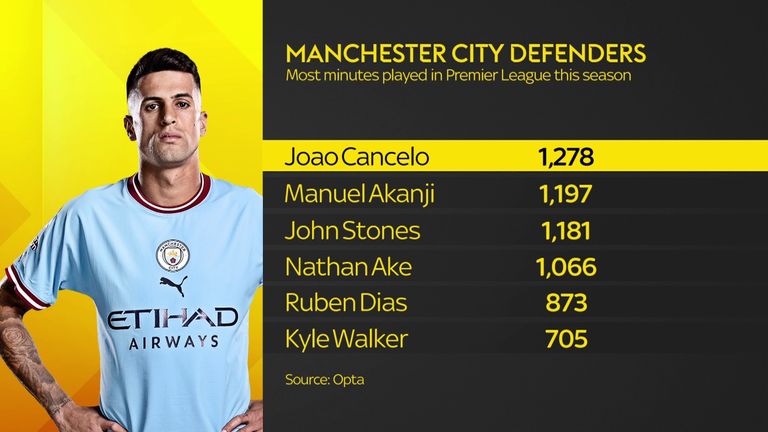 The Portugal international has seen limited minutes since his return from the World Cup, with Guardiola altering his squad's formation.
Cancelo made 36 appearances for City in the Premier League last season, but has had a limited role at City this season and has seen Guardiola alter his team's formations and formations.
His agent is understood to have brought Bayern's interest to City, who are willing to let Cancelo move given the presence of Rico Lewis and Nathan Ake's performance at full-back.
Why did Manchester City let Cancelo go?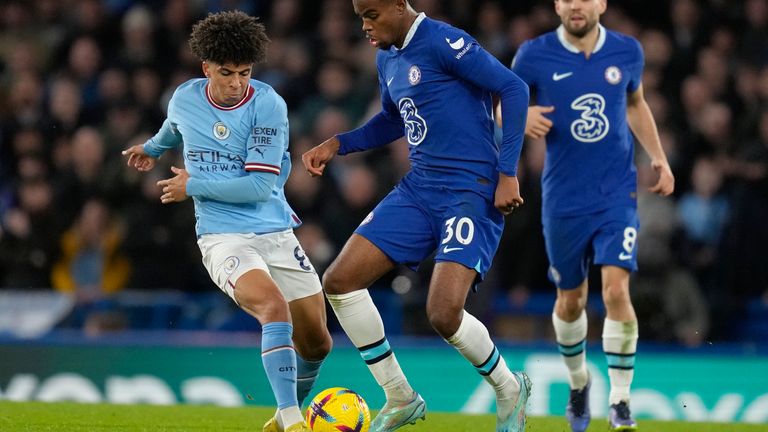 The versatile full-back has been a key part of Guardiola's side since joining City in a £60million move from Juventus in 2019, helping them win two Premier League titles.
However, his appearances appear to have slipped of late, with him starting just three games since top-flight domestic football resumed in December.
The club also have four other senior centre-backs in John Stones, Ruben Dias, Aymeric Laporte and Manuel Akanji and City feel they have enough cover. The change in profile shape also doesn't suit Cancelo's game.
It remains to be seen if a deal can now be brokered before the final day of the transfer window.
Typical opportunistic Bayern move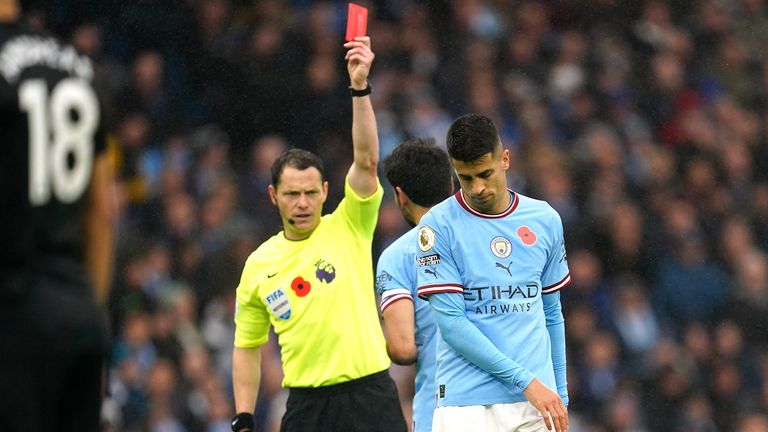 European football expert Kevin Hatchard:
"This deal is very Bayern in some ways. They are really good opportunists. They have the money ready so when that opportunity arises they can move.
"If you look at it, Alphonso Davies absolutely locks down left-back, but do they have a ton of cover? In theory they brought in Daley Blind to cover him.
"But on the right, it's more complicated because they have Benjamin Pavard, who doesn't have a lot of support and has talked very openly about a possible summer move.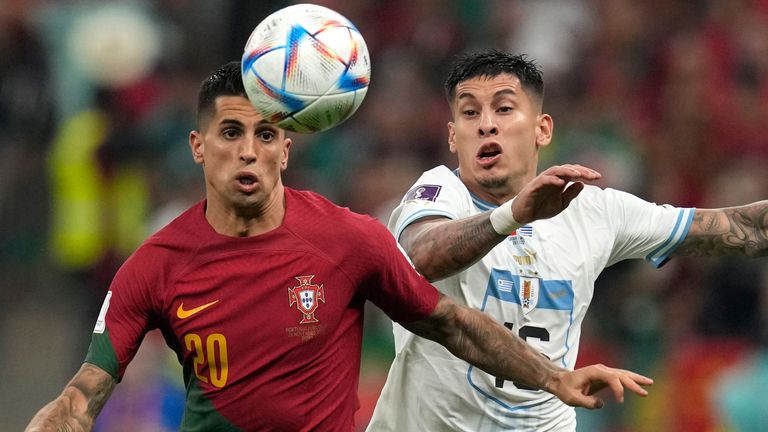 "He didn't start against Eintracht Frankfurt at the weekend – instead they picked Josip Stanisic, a good 22-year-old but happy to be on the bench.
"Noussair Mazraoui did well for Morocco at the World Cup and he's currently having a pericarditis problem so they're watching him closely and when he comes back I think they'll settle him gently.
"So to have a player like Cancelo come in and play at right-back is a huge upgrade for Bayern. The deal is well structured because it's a loan. Everyone wins."
Cancelo's departure marks one of City's quickest fall from grace
Jamie Carragher has praised the 18-year-old's performance against Tottenham and highlighted Pep Guardiola's evolution at his full-back.

Sky Sports' Ron Walker:
"Just half a season after being named in the Premier League Team of the Year for the second consecutive year, João Cancelo looks set to leave the Etihad.
"He's not the only player who has left to find new pastures after falling out of favor – Raheem Sterling and Leroy Sane have traveled that path before – but rarely so suddenly.
"His attacking instincts make him partly responsible for City's porous defense this season and they are on track to reduce their goals conceded by around a quarter in 2021/22.
"It wasn't until after the World Cup that he found himself out of Guardiola's favor and in that time he played just three of Guardiola's six league games.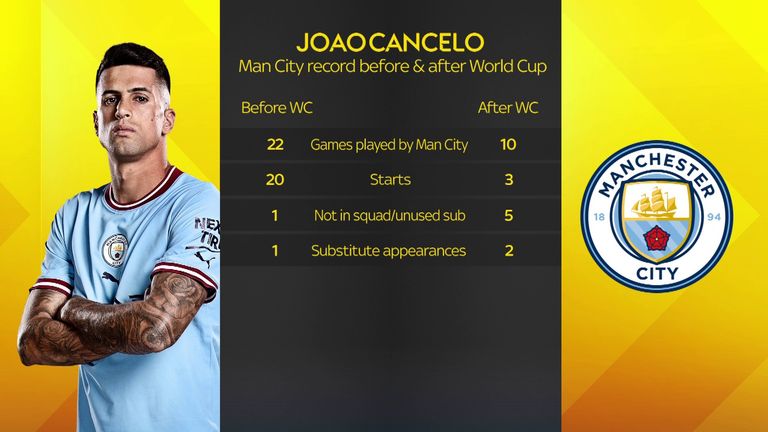 "Cancelo, who was substituted at half-time in the 1-0 win over Chelsea, could argue that he was misplaced on the right wing of the striker at Stamford Bridge – while Pep Guardiola The tweaked formation certainly didn't help him regain his place, nor did a poor performance in Southampton's surprise Carabao Cup win.
"When Guardiola signed from Juventus in 2019, his relationship with Cancelo didn't start off well, something that has been mentioned by both parties since things have improved. But Guardiola did hint at another. Rift, who mentioned a 'lack of hunger' for certain players who have been excluded in recent weeks, with Cancelo thought to be among the front line.
"This sudden development shows that the assumption is accurate and represents one of the quickest falls from grace in Pep's eight years at the helm of the Etihad.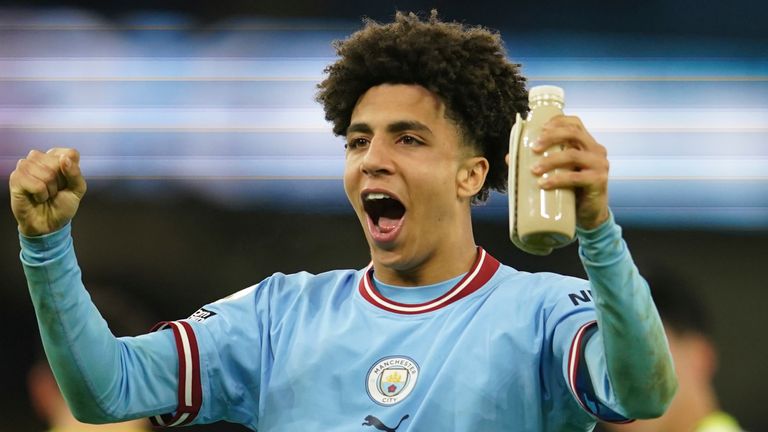 "While it answers that question, it also raises others. In theory, Manchester City must have been weaker without one of the best defenders in the league over the past two years. Well, it's Gua. Is Deora a vote of confidence in Rico Lewis? Is Nathan Ake the new character here to stay?
"The move has elements of a gamble for City as they go after league leaders Arsenal without one of the best defensive players in the league over the past two years. But for a team that won last season without a proven No.9 It's far from the first time for the league champions."
Follow Sky Sports' January transfer window
Who will be moving this winter?January transfer window closes 11pm in England and midnight in Scotland exist Tuesday, January 31, 2023.
Keep up with all the latest transfer news and rumours, on our dedicated website Transfer Center Blog exist sky sports digital platform.You can also learn the ins and outs and analysis about sky sports news.