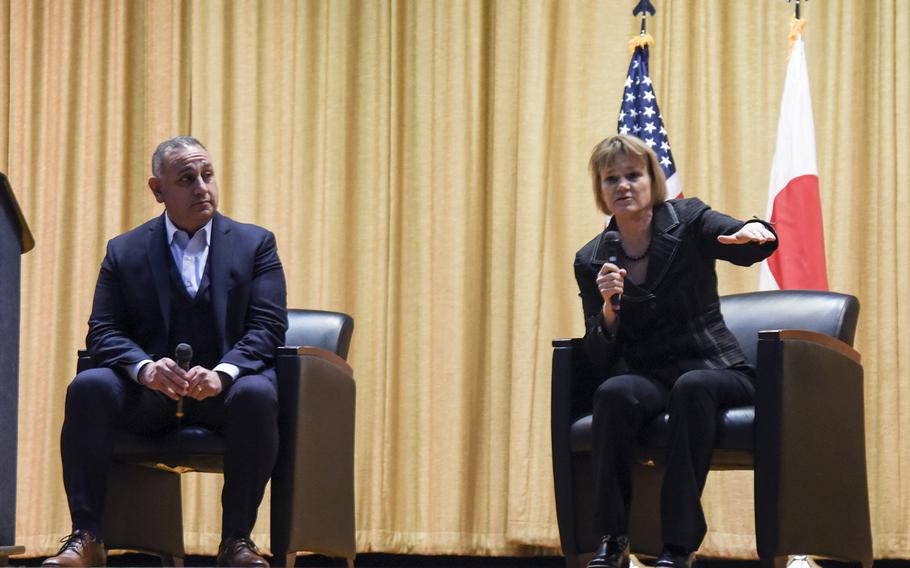 YOKOTA AIR BASE, Japan — Pentagon officials offered few answers Monday to questions from hundreds of Defense Department civilian employees about their lack of access to military health care at a town hall at the airlift base west of Tokyo.
Gilbert Cisneros Jr., Undersecretary of Defense for Personnel and Readiness, and Seileen Mullen, Acting Assistant Secretary of Defense for Health, hosted a long session at the Base Theater hour town hall.
Mullen said during the meeting that a task force behind the scenes at the Pentagon in Washington, D.C., was looking for solutions to Japan's health care problems.
On Jan. 1, when DoD employees were denied ongoing medical care at U.S. bases in Japan for most chronic conditions, the Defense Health Service implemented a congressional mandate to prioritize treatment for active-duty service members, their families and others covered by the Military Health Plan Tricare Prime Minister . Some services are still available, including urgent care and childbirth.
"So, we've come up with some solutions," Mullen told a crowd of about 400, double the size of a previous town hall on the same topic on Jan. 5. "But we haven't come up with anything permanent yet because we're trying to figure out what you think about your issues and whether the things we're looking at will actually meet your needs."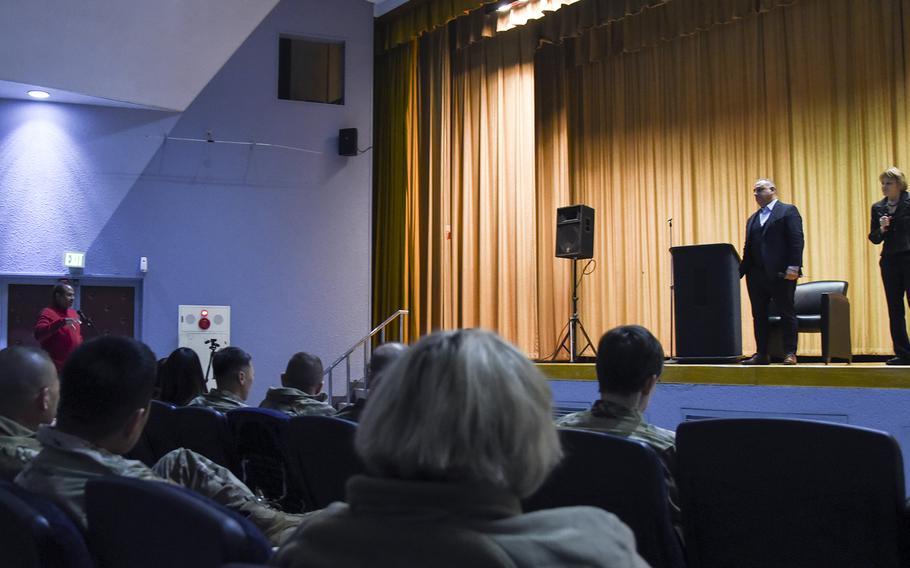 At previous town halls at Yokota and Marine Corps Air Station Iwakuni earlier this month and at Yokosuka Naval Base south of Tokyo in December, DoD civilians complained that the DHA's change notices were short and that the available space appointments were impractical. And other issues. The treatment protocols now administered by U.S. military hospitals for DoD employees in Japan, and the unpredictability of receiving medical care from Japanese providers. Some civilian employees of Stars and Stripes are affected by these changes.
In October, Maj. Gen. Joseph Heck, the DHA's Indo-Pacific director, advised DoD civilian personnel and their families in Japan to seek ongoing medical care from Japanese providers.
Before Jan. 1, however, neither the Japanese government nor the country's health care providers had formally notified Japan of the change in U.S. civilian health care, said Marine Corps Artillery Sgt. Jonathan Wright told Stars and Stripes in an email Friday.
The response of DoD civilian personnel—for example, teachers, contractors, base communications and commissary employees—caused a stir in Washington.
The Facebook group Japan Civilian Medical Advocacy has launched a petition asking Congress to reconsider the changes; it has gathered 2,460 signatures so far. The group also conducted an email and phone campaign to further draw the attention of congressional representatives.
Sen. Elizabeth Warren, D-Mass., a member of the Senate Armed Services Committee, wrote to Mullen and DHA's newly appointed director, Army Maj. Gen. Tretta Crossland, on Jan. 23, questioning the motives and asking the agency to justify cuts to the Department of Defense. Reasons for Japanese employees to drop out of the military healthcare system.
But Mullen said the Pentagon's phones started ringing in October after Heck announced the DHA changes in the Pacific. U.S. Ambassador to Japan Rahm Emanuel traveled to Washington to confer with Defense Secretary Lloyd Austin on the change.
"Well, it's time to focus on what's going on in Japan," Mullen said.
On Tuesday, Mullen and Cisneros are scheduled to attend similar town hall meetings in Yokosuka in the morning and Camp Zama, the headquarters of U.S. forces in Japan southwest of Tokyo, in the afternoon.