smallAra Gorton thinks the Covid pandemic has been the worst for the NHS. But now, with nurses, ambulance crews and other health workers planning more strikes in an already struggling service, the woman leading health union pay negotiations thinks she is wrong. "It's worse — because that's where we got into because of political choices," she said.
Prime Minister Rishi Sunak and his ministers like to paint the union leader as a left-wing radical, a modern-day Arthur Scargills. By doing so, they believe they can turn the public against the strikers as controversy drags on and sympathy ebbs.
But Gorton, the health chief of Unison, the country's largest union, and chairman of the NHS staff council, which represents staff in pay negotiations with ministers and employers, doesn't fit that stereotype at all.
Mild by nature but ready to tell some hard truths, she's a lethal weapon to those fighting for a better paycheck. Gorton, who has 20 years of experience in NHS payments, is furious at the political games being played with the health service.
Covid is global and beyond our control, she said. But the current disaster was created by Tory politicians in Westminster. "With the pandemic, it felt like we were responding to something that wasn't anyone's fault. And it felt like the people making the decisions, especially about funding, didn't care."
That's a strong indictment of those she's negotiating with, but she seems confident about when to take risks and when to keep things business-like at the table. She described talks with ministers and officials as "always civil", including a meeting last Monday that yielded initial signs of progress. "They're gracious. We don't sit in a room and yell at people. But my steely side does come out. I'm not a bully."
This was evident as she again criticized ministers and said unions were aligned with the public. "If you really cared about the population, you'd see all the polls, the social attitude surveys that show that people in the UK place almost everything above everything else about having good and efficient health care, and you're going to reflect that in that way. run the country."
In the battle of opinion — a contest of hearts and minds — the unions appear to be winning in the opening weeks of 2023.
Sunak's slamming of unions in the Commons and claiming Labor is pocketing them every week when it comes to the prime minister seems to be in grave danger of backfiring – something the likes of Gorton can feel.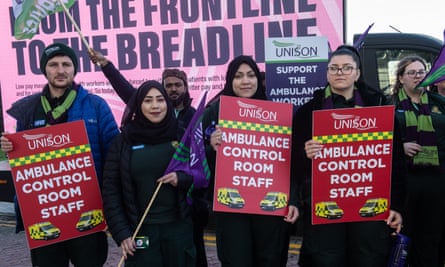 Our Opinium poll on Sunday showed that nurses and their leaders are more popular than government. 34% of the public approve of the way nurses handle disputes, while 21% disapprove. Just 14 percent approve of the government's position, while 48 percent disapprove. The figures for ambulance disputes also skewed heavily towards strikers. Labor's lead has risen by two points since the last poll three weeks ago, during which time the news has been dominated by the NHS crisis and strikes.
There is other evidence that unions are drawing strength from the current crisis. Health unions at the center of the controversy, such as the Royal College of Nursing (RCN), have seen a surge in membership in recent weeks. It is understood that since last summer, the number of RCNs has surged by about 10% and reached a record of more than 500,000 people. Unison also reported strong growth.
"People realize what we're doing is the right thing to do. They agree on why," a union source said.
In a bluntly partisan political broadcast last week, Sunak made no mention of the NHS strike, instead talking about how the government is committing record resources to pay more nurses and doctors. But there are signs that others at the top of the government, including Health Secretary Steve Buckley, are growing increasingly concerned about the escalating crisis.
New figures reveal England's worst ever ambulance response times have sparked serious consternation among Conservative MPs and within the government. The number of people waiting 12 hours or more to get to emergency departments is at an all-time high. Patients with stroke, severe burns or chest pain had an average reaction time of 93 minutes, five times the target of 18 minutes.
A senior Conservative MP has said a tough settlement of a pay dispute and insisting that no more money than has been provided will lead his party towards certain disaster. "If this continues into the spring and approaches the local elections in May, we will be murdered," he said.
During the talks last Monday, Barclays first hinted that a change in approach was needed and that more money had to be provided than previously provided, Gorton said. "I think he wants to do it with us now," she said. "I think it's up to the Prime Minister whether he can [Jeremy Hunt] – Which is ironic considering his previous roles [as health secretary] —and the Prime Minister. "
She added: "The immediate priority is to resolve the dispute and to do that the chancellor will need to provide funding on top of the investment made so far this year."
Interestingly, Gordon told observer Buckley actually asked the unions to help him convince the Treasury that more investment in the NHS would yield greater efficiencies. Paying more wages and salaries will help retain workers, while letting the hiring crisis fester adds problems and costs.
Asked if she could see the light ahead, Gorton said: "I can. It's up to the Chancellor and the Chancellor how quickly the lights go out. The pressure is now up and it feels like the Secretary of State now understands the need to not only resolve disputes quickly, but Investing in compensation is needed to deliver on the promise of renewed service."
She added: "Last Monday, he talked about asking us to help make the case for the required investment to Treasury. All the deals I've been involved with in the past have demonstrated the benefits of investment to some degree."
This weekend, Gorton wrote to Sunak and Hunt asking them to hold a meeting with the union. It appears that the unions may succeed in ensuring that the crisis from now on is concentrated in Downing Street.