Originally known for its colorful bandages and other first aid essentials, Welly has branched out into the body care arena.
This The four-year-old brand has expanded, adding over-the-counter medicines and supplements in August. The brand is available at retailers including Target, CVS, Walmart, Wegman's, and Amazon.
Now, on February 5, it's launching its first hits at Target. There will be six to start with: Daily Moisturizing Body Lotion, Eczema Body Cream, Rough and Bumpy Body Lotion, Dry and Itchy Body Lotion, Acne Fighting Body Mist, and Firming Body Lotion, priced from From $16 to $17.The brand selected six body care issues for focus based on data from Consumer data firm Numerator on which ones are most common among Gen Z and millennials.
Welly was founded by Eric Ryan, a serial entrepreneur best known for founding cleaning supplies and personal care company Method and supplement brand Olly. SC Johnson acquired Method in 2017, while Unilever acquired Olly in 2019 and Welly in 2021. Ryan remains involved with all three brands.
Ryan says he always looks at the brands he creates broadly based on the category they fall into. "At its core, First Aid is a beauty product. It's on your skin, it's really the only wellness product you wear, and it has this design and quality of clothing. It's also about repairing your skin, which is beauty. "
The fusion of beauty and wellness is an enduring trend, he said. Throughout his career, he's drawn "inspiration" from the beauty industry, which has allowed him to elevate the experience in more common categories like cleaning supplies and vitamins. But the introduction of body care products flipped the script, he said.
"This is the first time I've brought health into beauty," he says.
According to Ryan, the treatment pipeline has stalled. It offers products that everyone needs, brands like Eucerin and Vaseline, but they've stayed the same. At the same time, other parts of the beauty industry are evolving to meet the aesthetic climate of the moment.
"Target is very excited about the idea. Therapy [as a category] It's definitely on fire. The brands there have been growing like crazy.But there's a gap between how beauty brands present themselves and the emotional connection [with consumers]and how clinical and boring [aesthetic of the] The therapy space is," he said. Not to mention, traditional therapy brands aren't "clean," he says.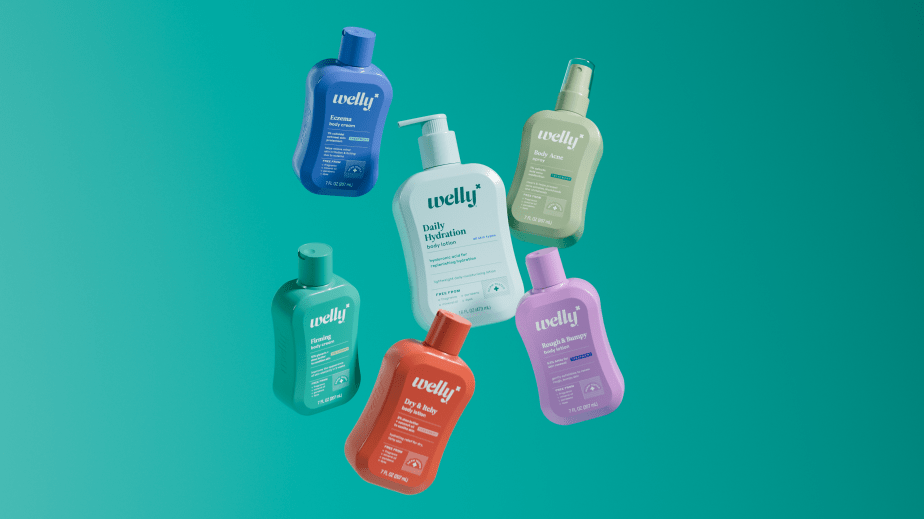 In all of Ryan's brands, he says, he seeks to combine efficacy with products that are "good for you and good for the planet."
Welly has hired Dr. Zion Ko (586,000 TikTok followers) to lead the campaign for the new series.
"We know that conversations around skin health are important [on TikTok]Welly's communications manager, Mari Mazzucco Kordahl, said Dr. Ko will employ an educational lens in her content to ensure her audience and other consumers understand how the product works and the state of the need they are addressing. "We are also activating TikTok influencers on the meso, micro and nano scale. We are prioritizing our channel to understand Gen-Z consumers and millennials [are active on]"
"Millennials are the first to see health and wellness as a lifestyle pursuit, and you see that first in fitness, [the rise of] SoulCycle and Barry's. Then it got into athleisure. It influenced the way we thought about building the Olly brand," says Ryan. "With previous generations like Gen X, they had a more acute attitude to wellness: you have a problem, you fix it. And baby boomers are just neglecting their health. Gen Zers are more open, honest, transparent and direct when it comes to health issues. "
Accepting the skin care concerns of living in the human body is new territory. This is part of the radical acceptance message that Gen Z is known for. And, whether it's through Starface's eye-catching acne patch or Megababe's outrageous take on previously stigmatized body care issues, including "chub rub," the phrase is now ringing across the beauty industry.
"With these products, we're saying, 'Don't hide from body acne and these different need states, previous generations would just hide it and not talk about it,'" Ryan says. "That's why we're bringing it bright colors [the packaging], making it more of a celebration. "