chakusta news
BILLINGS — Western Native Voice (WNV) hosted the inaugural Inspire Native Leadership Membership Conference and provided attendees with knowledge and skill-building sessions, panel discussions, shared meals and cultural activities. The purpose of the event is to inspire Native Americans to take action within their communities to effect positive change.
The event is open to all WNV members, with priority given to those who had signed up for the group's original conference, which was scheduled to take place last fall, but was postponed so the group could prioritize spreading the midterm election message.
WNV is a Billings-based not-for-profit corporation and social welfare nonprofit. It aims to inspire Indigenous leadership through community organizing, education, leadership and advocacy.
The meeting kicked off the next morning with a presentation by WNV Deputy Director Ta'jin Perez.
Perez is a Totonac Native who grew up in Wyoming. Perez has always had strong ties to the local Indigenous community, but the 2016 Dakota Access Pipeline protests at the Standing Rock Reservation in South Dakota inspired him to advocate for Indigenous causes. "I felt the need to act on my values ​​of solidarity with other indigenous peoples," Perez said.
Perez organized benefit concerts and other fundraising events to support the Standing Rock community, which kicked off his work in community organizing and will continue organizing throughout Montana. "I really fell in love with the uniqueness of all the communities here," Perez said.
Attendees then split into groups, with those interested in community organizing belonging to the grassroots group and those more concerned with electoral politics belonging to the political group.
The grassroots track includes a self-leadership session, which shows attendees how to use their personal stories to organize their communities, and a power mapping session, which helps attendees understand how grassroots organizing can help win on issues that matter.
These sessions are moderated by Natanya O'Neill, WNV Field Supervisor. A native of Northern Cheyenne, O'Neill has done extensive civic engagement work on the Flathead Reservation.
The Politics Track includes Working Elections and Campaign Sessions, for those interested in a political career, and the Running for Office 101 session, designed to show attendees that running for office may be easier than they thought, as well as explain the basics of organizing a successful political campaign The ins and outs.
The session included guest speakers, veteran campaign staffer Alice Boyer, Montana Senator Lea Whitford, Montana Representative Sharon Stewart-Peregoy and Wolf Point City Council Member Lance Fourstar.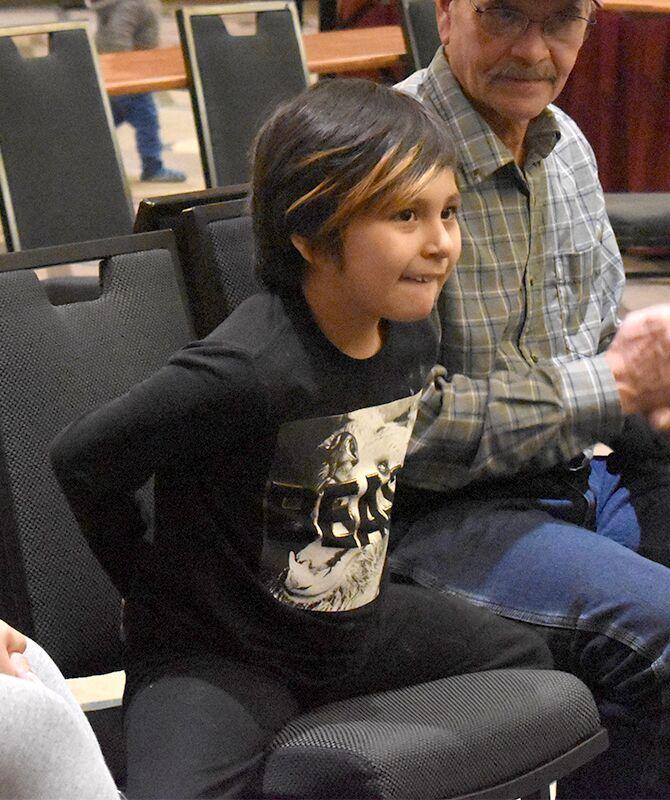 The Political Track ties in with Perez's overall goal of the campaign, which is to inspire civic engagement among Native Americans and show them the positive impact they can have on their communities through the development of public policy.
In Running for Office 101, Lance Fourstar explains to attendees the power of having Native Americans in public office. To illustrate the importance of this point, he described how the Montana Indian Caucus opposed a draft resolution that would have removed Montana's reservations.
Although the resolution has since been withdrawn, the issue came up several times throughout the event as it captured the attention of attendees and revealed to many the importance of having Native American representation in the legislature.
"Please bring forth the effort," Whitford said, urging Indigenous attendees to get involved in political campaigns. Fourstar agrees, adding: "It's taken 200 years to get to this point, and it's not going to end anytime soon."
"I think women should serve in the House and the Senate," said Stewart-Peregoy on why her identity as a Native American and a woman would motivate her to run for office, a move Perez described as engaging in political self-interest.
Perez urged attendees to identify what their own and the community's self-interests are, and to detail why and how attendees support the development of those self-interests.
A recurring theme in the speeches of elected officials is the importance of staying in touch with one's own culture to better serve the community and reduce stress.
Whitford says she does this by beading. Fourstar says he does it through sweat. "It's important to create that connection in your community," Whitford said.
At the end of the evening, attendees had a game of sticks. Some attendees had played it before, but for many it was a first time and a chance to learn about a new cultural activity.
The event concluded the next morning with a presentation by Fort Pike Register member Dr. Wilson on "Native Rights and the Montana Constitution." Wilson spoke to attendees about how they used the law to protect their rights.
For example, Wilson recommends that those facing discrimination contact the Human Rights Commission to file a complaint. If the issues are not resolved, litigation becomes possible. Litigation helps address discrimination issues throughout Montana, including cases fought by WNV.
Lawsuit filed on behalf of WNV (and other Native American organizations, the Salish and Kootenai Tribal Confederation of the Flathead Reservation, the Blackfeet Nation Fort Belknap Indian Community, and the Northern Cheyenne Tribe) seeks to challenge WNV and other votes to limit Native American advocacy groups considered discriminatory.
Wilson emphasized the importance of Native American participation in the political process. He emphasized the role of electoral politics, especially as a means of fighting discrimination. "We had to find a candidate who supported us 100 percent," Wilson said.
He also describes the relevance of tribal sovereignty, detailing how jurisdictional issues are fueling the MMIW crisis. "Women are missing and murdered because everyone knows that the jurisdiction of Indian reservations is a mess when it comes to Indian and non-Indian relationships," Wilson said.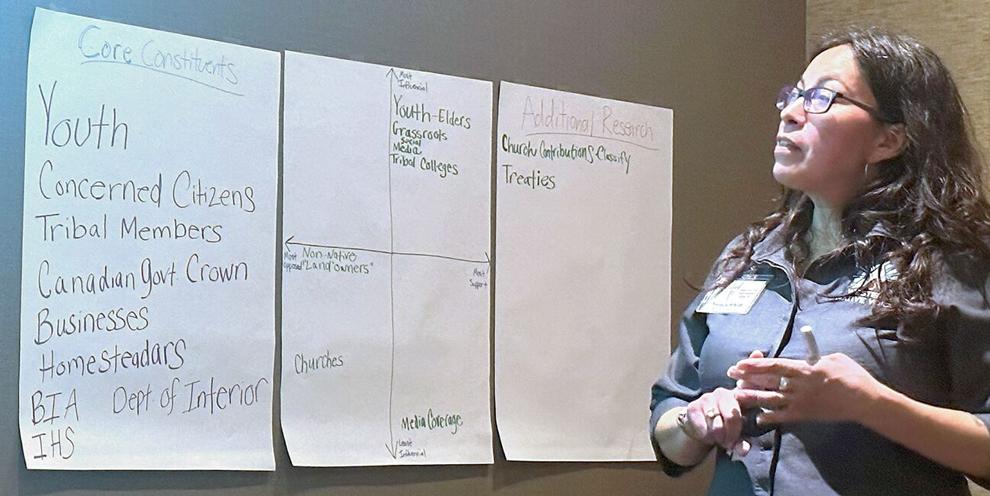 Both Wilson and Perez advocated retaining Indigenous-majority districts in Montana to ensure Indigenous peoples have a voice in the legislature. Citizens have the ability to support their preferred districts by expressing public opinion to the District and Allocation Board, which draws political boundaries and determines who will represent which voters throughout Montana.
Wilson was followed by Perez, who concluded by thanking attendees and reminding them of all the avenues they can take to make a positive difference in their communities.
The Adult Program coincides with the Expanded Horizons Ambassador Program held concurrently in a separate room. Like the Inspire Native Leadership Membership Conference, this is the first event of its kind hosted by WNV. High school-age applicants from across the state are selected for the event, where they hope to gain leadership skills that will help them better serve their communities.
The Expanding Horizons Ambassadors heard from a number of presenters, including Monde Solomon of Embicini Wellness, who spoke about health and wellness. Wilson and fellow registered Fort Peck member Myltin Bighorn spoke to the students about the importance of creating a vision, setting goals, educating and believing in themselves. Ambassadors also participated in quill workshops at Kinsley Walks Along.
WNV serves all eight tribal states in Montana, and members from other states, including Montana and even Wyoming, attended the event.
The event was also attended by the WNV Membership Council: Laurie Kindness, Lance Fourstar, Jodi Hunter and Dolly Wells. Wells and Hunt were among several attendees representing the Flathead reservation.
Ta'jin Perez said of the meeting, "I think it was really a huge success. We accomplished what we set out here, which is to talk about community organizing and really inspire empowerment and action."
Perez said WNV members are vital to their community, so he was pleased to receive positive feedback on the experience from attendees, who said they learned a lot from the event and helped them feel part of the community.
"The really most important thing for us at Western Native Voice is to make sure that these opportunities are available to individuals who really crave it and are really looking for this kind of information," Perez said.
The event was their first meeting, and organizers hope it will be the first of many.
If you would like to learn more about or provide testimony about redistricting, please contact Perez at tperez@westernnativevoice.org.
WNV will continue to host regular events, including conferences. Some of these will be open to the public, while others will be exclusively available to WNV members. To become a member, learn more about how to make an impact in your community, or find events hosted by WNV, find WNV on Facebook, Twitter or Instagram, or visit Westernnativevoice.org. WNV accepts donations, but membership is free.